Testimonials:Extreme Steam Cleaning Saving Businesses and Homeowners Money, by Simply Doing Our Job!
Thinking of Replacing Your Carpet?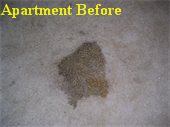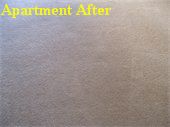 This carpet was scheduled to be replaced due to stains and matting like this throughout the entire 1,110 Square Foot Apartment.
Cost for New Carpet $1,576
Cost for Repair $180
Total Savings: $1,396
I am not trying to push my vendors on anyone, but I wanted to share this with you all.I go through a lot of money a year on carpet because I get ones that look like the one in the picture. Smith Mathis, A-1, One Way and Langenwalter have all done carpet cleanings for me in my 4 years in P.M. (Property Management). This carpet was scheduled for a carpet replacement for today but James told me to give him a shot because he got a new machine. Check it out, I wish you could all see the pictures in person! I promise, if you are not using him, you should at least give Extreme Steam Cleaning a try. Give him your worst unit, maybe not pet because we know the smell might never go away. But he is saving me money left and right and I honestly back him 100% on this type of work. --Ivana Tworek


What other customers are saying...We Detest a Dirty Carpet. And We Think You Should, Too. We know you want excellent service. Thats why Extreme Steam Cleaning, LLC, set out to provide Indianapolis and surrounding areas with top-notch carpet, upholstery, water extraction and carpet repair services. Through the dedication of our staff, you'll find that our services will always exceed your expectations. Our customers can attest to our superb service, and we even included their reviews here! Take a look below for some words from our clients.



Robin, October 27, 2010
Thanks for doing a great job. I can't believe how good my carpet looked when you was done. Great prices in town. I will call when I need it again.
Trisha, January 12, 2011
I was impressed with the cleaning job that Extreme Steam Cleaning did on all the carpet in our condo. Unfortunately, in six months time, bad renters had covered the carpet in filth. We weren't sure if it was even salvagable, but after the cleaning, the carpets looked 100% better. The guy who did the cleaning was very nice and did a great job of pretreating all of the stains. They definitely have great prices, great service and get the job done. I would recommend them to anyone.
Karen, January 12, 2011
I had Extreme Steam Cleaning clean a lease home I own and they did an excellent job! The carpet was extremely dirty and one room I was planning on ripping out the carpet and replacing it. Extreme Steam Clean was able to get it clean! It was unbelievable! Their customer service is great too! Thanks Extreme Steam Cleaning!!!!
Judy, January 16, 2011

I had a flood in my basement. Extreme Steam Cleaning cleaned the carpet to a next to new state. There was no residual oder in the carpet and the basement smells clean. The technician also had the skill of patching an area in the carpet that had fallen apart due to the flood. Thanks Extreme Steam Cleaning. I'd give you a 5 star!!!!!
Pamela K. Black, January 20, 2011
To find a carpet cleaning service that does an excellant job, at such affordable pricing was a BIG bonus for us! Extreme Steam Cleaning will be our cleaning service of choice, from now on!
Nicole, April 3, 2011
I am so happy with my clean carpet!! Great guys who worked very hard and did an awesome job!
Jennifer Johnson, April 10, 2011
Thank you soooo much for doing such a great job at such a great price! You also acted like you truly enjoyed what you were doing. It is really refreshing to find businesses these days that make the experience so pleasant! We will definitely being telling all our friends and neighbors! Thank you!!!!
Kari, April 14, 2011
Thanks for a job well done at an affordable price. Our carpet looks great!
Heidi S., April 28, 2011
Thank you so much for spending the time cleaning my prior-renters mess! The carpet (with urine stains) looks & smells a million times better. Thanks for taking your time to make it better. Great service! Thank you!
Nannette, June 2, 2011
I was very happy with my carpet cleaning. The carpets looked great and my whole house smelled clean. I got some of your business cards from your technician and passed them out at work. I will recommend your company. Thank you!!
Tom C., June 9, 2011
I was fed up with the Big Name carpet cleaners that pushed high dollar packages that didn't deliver. It was well worth my effort to follow up on the radio advertisement for Extreme Steam. After posting an on-line request for service, Extreme Steam responded quickly and arrived on time. They offered competitive rates and a killer price on their DuPont Stain Resister application. With four boys and two dogs, we had horrible stains and embarrassing high-traffic areas. Skeptical as to the ability of Extreme Steam to clean it all, they came through with flying colors. The true test was the durability of their product. Their service was performed weeks ago and our carpet still looks awesome! It's even held up to recent accidents due to their stain guard application. Finally! We've found a carpet care company that has it all Service, Experience and Competitive Pricing. Here's what our family has discovered - Extreme Steam Is The Right Team!
Dan U., June 10, 2011
Guys were on time (actually early!), very friendly, did a good job and I was very happy with the results, and I also liked the fact that they didn't push any other services, it was only when I asked about other services that they commented or gave pricing. Would recommend them to others.
Erica S., July 1, 2011
The gentlemen that came out to clean my carpets were very polite. They did a great job pretreating and scrubbing. There are just a few spots that he explained had somehow been dyed and he said that he tried everything on the truck to get them out but they weren't budging and the major high traffic areas on really cheap carpet are still slightly discolored, but that is expected after 6 years of not being able to move the furniture and change the pattern of the high traffic area, so other than those two minor things, everything looks absolutely great! He was extremely fast, it only took an hour for him to clean my entire house! No one can beat your prices, PLUS I love the fresh orange smell of your cleaning solution. It doesn't have an offensive odor where some cleaning companies can leave your house smelling like obnoxious cleaning agents. So you get an A from me!! Thanks so much!!! Ya'll are great!!
John D., July 1, 2011
Excellent Service, Great Prices, Amazing People equals Superior Value. Extreme Steam Cleaning is now my only source for carpet cleaning.
Larissa, July 21, 2011
We were very satisfied with the services that the technicians provided. We were given a bottle of carpet cleaner for future use and the techs were professional. They also cleaned our steps when we weren't expecting those to be included. What a nice surprise and much appreciated! We'd recommend this company to others definitely!
Steve, August 30,2011

Finally, a real carpet cleaning company that believes in actually cleaning carpets. I was a little iffy at first trying to a new company, but luckily I did. Extreme Steam pulled out stains in our carpets that the last 2 major big box companies couldn't, didn't tear up my house dragging their hoses around the corners, their staff was more friendly than most companies and they were way more competitive than anyone else we looked out. For once, I felt like someone actually cared about getting my carpets clean rather than just getting the job done. Heck if you impress me, you'll impress anyone. Two thumbs up for Extreme Steam!
Jill, September 12,2011
Thanks for contacting me today to follow up on the cleaning of Paul's RV this weekend. I appreciate your professionalism and commitment to our satisfaction. The guys did a great job getting the carpet and upholstery clean. It was quite a project due to the mold that had grown in the RV during the time it was in storage, which was since November 2010. James recognized right away that the mold was dead and not toxic but still understood our concern that it be thoroughly cleaned. They cleaned everything and treated it with a chemical called Microban (I think?) and everything looks and smells SO MUCH BETTER!! We are very happy with the results and would recommend Extreme Steam to anyone who needs their carpets and/or upholstery cleaned.
Brenda, October 7,2011
Just wanted to let you know you guys really did a great job on cleaning my couch.
Rose H., November 30,2011
I was very pleased with the Extreme Steam and have already passed along one of your business cards to a friend. The technicians were timely, pleasant, and professional. When I returned to the apartment after the cleaning, I was greeted with a delightful hint of citrus and the satisfaction of a clean carpet. It was a job well-done, and I will be telling more of my friends about you!